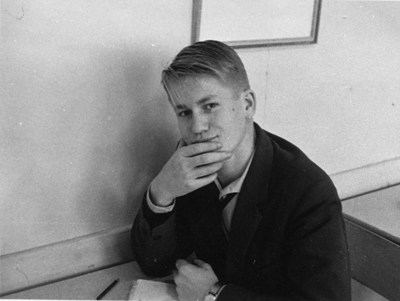 Sven in The Hässleholm Technical College
I would like to share a few more experiences from the time in Hässleholm. Many comrades gave me gibes, one could say that it was kind of bullying, but I never experienced it as bullying, but rather as I was persecuted for my faith. It actually came to help me, strengthened me and made me a lot stronger in my faith. I also learned how to deal with arguments against the Bible and my faith. It was thus a very rewarding time for me. I was a bit of a specialist to answer questions and I often won the discussions. There were, for example, stories that I read which fit into different contexts. An example of such a story was the judge who wanted a "yes" or "no" by the accused. "Yes", claimed the accused, "but there are questions you cannot answer with a simple "yes" or "no". "I do not agree with you", said the judge. "Oh", said the accused, "Could the judge please answer yes or no to this question, then? Has the judge stopped accepting bribes?" Once a friend who was determined about receiving a "yes" or "no" as the answer to a question "so that I wouldn't simply talk my way out of it" beset me. I came to think of the story and said:
"You know that there are questions that cannot be answered with a simple "yes" or "no", don´t you?"
"It's not like that at all."
"Okay", I said, "Could you then please answer the following question: Have you stopped bribing the teachers?"
He then had to admit that there were issues that could not be answered with a "yes" or a "no" alone, but had to be followed by an explanation.
On another occasion, we were sitting in the school cafeteria eating. I always used to ask God to bless the food. I clasped my hands, bowed my head and said a silent prayer. One of my companions, who was a communist, asked:
"What are you doing, Sven?"
"I'm asking God to bless the food. Don't you ever do that?"
"No, I never do that."
"No, I ought not to be surprised. The pigs at home don't do it either."
I learnt to reverse the questioning to my advantage so that the classmates would not laugh at me, but at the one who tried to harass me. But pretty soon I realized that people did not come to faith in God by me winning arguments. When this became clear to me it was no longer as crucial to win all of the debates. The important thing was to testify in a way that could bring people closer to God.
At one time, the school was arranging a dance. I asked my fellow Christians from the "technician group" if they were interested in doing an evangelization venture associated with the dance – and yes, they were. I went to the organizer and asked if there was a break during the event. At 10pm there would be a 20 minutes` break and I asked if we, the Christians technicians, could sing and testify at that time. "Dare you do this?" he asked. "Of course we dare!" was my answer. Said and done, when the break approached during the school dance, we were there, testifying and singing. The crowd was so quiet you could probably have heard a pin drop. As we finished, there were many young people who came and wanted to talk. Some cried and told me that they once had faith but had lost it. We even got to pray with several people there on the dance floor. This night and similar experiences made us certain of our calling to serve God and be a blessing.
​
​
​