Marianne speaking: My dad, Ludvig Eriksson, used to tell us kids about a dream he had had when he was 17 years old. In the dream he had seen a map of Papua New Guinea and felt that God was calling him to work there. But life came in between. Ludvig was the oldest out of five siblings, and because his father died when he was very young, he had to take a lot of the responsibility for the family along with his mother. Years passed, Ludvig married and had nine children. Sometimes, however, the idea of Papua New Guinea emerged, but the idea of him going there felt like an impossibility because of the way life had evolved.
As I said earlier, we were quite poor during my childhood in Högbrännan. This and the lure of adventure made Ludvig's eight years younger brother, Hilding Eriksson, in the mid-1950s talk about emigrating to Australia and he wanted Ludvig and his family to join (Ludvig's wife Elsa was the sister of Hilding's wife Ingrid). But this was a big step for a poor family from the north.
But Hilding did not give up this idea. He would take several maps of Australia with him and along with Ludvig, he would lay them out on the floor of the cabin and philosophize about where in Australia they would settle. At that time, the Australian government encouraged immigration from Europe by paying most of the travel expenses. At first, all of this remained a dream but eventually the "project" took a more steadfast form, but the problem circulated around how to raise the money needed - partly for the trip to London, from where the paid boat trip started, and partly for the initial capital necessary. This meant that the house and land in Högbrännan had to be sold, but it seemed impossible since there was no demand for such farms.
After a lot of thinking and reasoning, they decided, despite all difficulties, to travel in September, year 1958. Still, there was obviously much anguish associated with this major decision. One cold winter night, the last winter before we would emigrate, Dad and I were on our way home to Högbrännan from Umeå. He asked me: "How do you children feel about the upcoming emigration to Australia?" I had never told him about Wasti Feldt's prophecy (the one I was told a few years earlier when I was at a youth camp), but now I did. I told him that she said that we would move to a country where there was an everlasting summer. "So I think this is right, Dad", I said.
To raise money for the trip, all of the families worked together with clearing forests and brush at a dam construction in Klimpfjäll during their last summer in Sweden. At the same time, dad was trying to sell our farm although it seemed impossible.
One morning, not long before we were to go, dad told us about a dream he'd had during the night. He saw Jesus on the shore of a vast sea. Jesus pointed beyond the sea, and said: "Now the road is open to Australia." In the dream, dad had asked him, "All the way to Australia?" "Yes, all the way to Australia," Jesus answered. On the same day at noon, a man came and wanted to buy our farm. He had the entire price sum with him in cash. Having sold our furniture and other items that we couldn't take with us to Australia, we set off on the journey to London, says Marianne
The emigration attracted a lot of attention in the district. On17th and 18th September 1958 it was possible to read about the Trehörningsjö families on their way to the land Down Under in two articles in Örnsköldsvik Allehanda. On September 17th, the newspaper wrote: "Flowers and songs, blessings and accordion music, farewell hugs and glistening tears characterized last night the railway station of Trehörningsjö just before the train departure at 7:17pm, as a crowded platform testified that something unusual was going on." The day after, on September 18th, the Örnsköldsvik Allehanda published a photo entitled "The Emigrants". The picture portrays the families of Ludvig and Hilding Eriksson as they are leaving the farm in Högbrännan. The whole travel company of 15 persons, except for Ernst Eriksson's fiancée, is visible in the picture. Marianne is the sixth person from the left.
​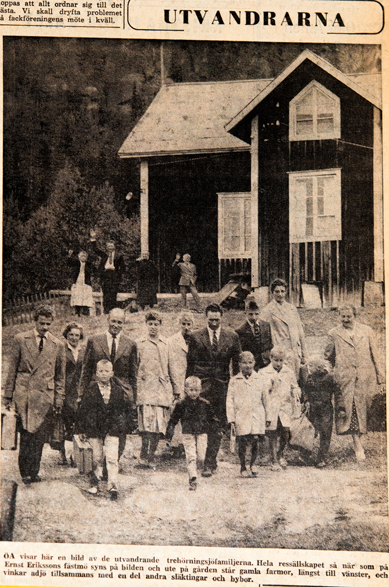 They travelled by train through Germany. They had to give their passports to the conductor on the train in East Germany. The train stopped during night. The police came on board and wanted to see their passports, but they were still in the hands of the conductor. Marianne, who was the only one who spoke a bit of German, tried to explain that the conductor had their passports, but the policemen did not care and started to pull both people and luggage to get them off the train. One of Marianne's older brothers, Sune, managed to sneak away and get a hold of the conductor. Thanks to this, they weren't thrown off the train.
The boat trip to Australia went through several ports. In some ports, like Bombay, the boat stayed for a couple of days. Thus, the opportunity arose to go ashore and experience what for the northerners was a very exotic city. The boat trip was a very enjoyable experience with its access to both a pool and good food. For Marianne, who was hungry quite often during her childhood, this abundance of food was a completely new experience. The first port in Australia was Perth, on the east coast, but the Eriksson families hadn't reached their destination until the very final stop, which was Sydney. From Sydney, they had to go by train to a transit camp for immigrants in Brisbane
Marianne's two oldest brothers, Ernst and Ivan, had travelled to Australia a couple of months before the others and examined where they could get a job and settle down. They had ended up in Cairns, Queensland. The Eriksson families only had to spend a week at the transit camp because of their arranged accommodation and work. Marianne had finally moved to a place where there was an everlasting summer – Wasti Feldt's prophecy had come true.
Marianne continues: When we arrived at Cairns, we only had a few dollars left, so the food that we ate was mostly made out of flour. Dad and Hilding found work at the airport in Cairns. It was very tiring in the 35-, sometimes 40-, degrees` heat. A billboard for airline ANA read "FLY ANA." Hilding interpreted this in his own way and said to Ludvig: "It says that we must escape this place."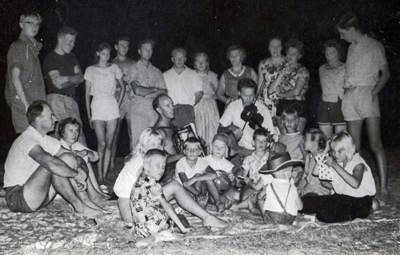 On the beach in Cairns, Christmas 1958
Hilding, who had worked in mines back in Sweden, heard that they were searching for miners in Mount Isa, a city about 1000 km inland. He went there and immediately got a job. Ludvig followed. They lived in a barrack-like building. One day the whole shack was burnt down and they were left there with no other possessions than what they were wearing. They bought themselves a tent and camped together with the Aborigines down by a river. Eventually, one could rent a bungalow-like house, very simple, but large enough for the other family members to move in there.
Somehow, it was obvious to me that I would educate myself to become a nurse. In the beginning of all of this, I was working as a nurse's assistant at the hospital in Mount Isa. It was very useful, since I had to learn what all the different technical terms in healthcare were called in English.
It was nice and cool in the mines, but above the ground it was, if possible, even hotter in Mount Isa than in Cairns. Dad and Mom wanted to return to Cairns – and to some extent influenced by the fact that my older brothers were still there. Dad got a job at a slaughterhouse in Cairns and moved there. In his spare time he undertook to demolish a house. He had to take care of demolition wood and out of this he built a new house which we could move in to. In addition, he received some payment for the demolition work.
Dad's brother, Hilding, and his family remained living in Mount Isa. He worked as a drilling engineer in the mine and eventually started a poultry farm for egg production.
​
​
​