There are still people living in the Highlands in Papua New Guinea who were born into a society where they were dependent on stone, bamboo and bones to make tools and where metal or glass objects were never to be seen. Although, now when they have reached an older age, they see children and grandchildren running around with smart phones and laptops. The same development that took hundreds of years in Sweden was carried out in less than a generation in the Highlands of Papua New Guinea. Today, it does not seem to be any undiscovered villages left, but as late as 1995, when Sven and Marianne ended their active missionary work in Papua New Guinea, one had just recently discovered a village that had not been in any contact with the outside world before.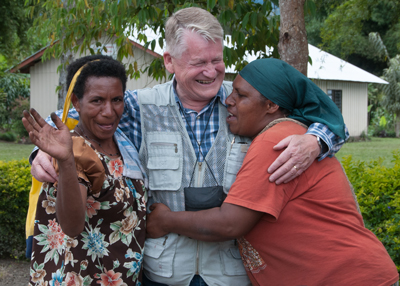 Sven in happy reunion in Papua New Guinea in April 2012
During one of our many conversations, I asked Sven if he had thought about writing about his experiences as a missionary. I was not the first one to ask him this question, he answered, but he considered this task to be hard. I then wondered if he would like to tell me his story – Sven liked that idea. Said and done, back in Brisbane, Australia, I bought a small digital tape recorder and during a 15 days´ tour in Australia, we spent the evenings interviewing the Goranssons. What you will read about in the following chapters is the result of Sven's and Marianne's stories. I am neither a writer nor a journalist myself, and it has not been an easy task sorting out the material, which has not always been recorded in a logical order. But with a little hard work, I personally feel that I managed to create an interesting story, although you as a reader must make up your own mind about this. Thanks to my loved ones, I have also managed to get some order in the language aspects and sentence structure. I hope you will enjoy taking part of a story about two people living on opposite sides of the globe, who, by being responsive to the call of God, got to witness how a society was transformed by the Gospel of salvation. In the short time that was available for us to converse, it was obviously difficult to cover everything that Sven and Marianne experienced during their many years as missionaries, although I hope and believe that the very essence is still captured and conveyed in the following chapters.
I have written some parts of the book from my own perspective and other parts are written from Sven´s and Marianne´s perspective.
The pictures illustrating this story are mostly photographs from Sven's and Marianne's own photo album. Some of them are my own photographs and a few are borrowed from Bengt Jägerskog. The owner of the rights of each photo appears when you hover with your computer arrow over the different images.
Between 2009 and 2010, Bengt Jägerskog created the amazing film "Mission Papua". It has been shown several times on the "Swedish Television" (Sveriges Televison) and the film portrays Sven's and Marianne's missionary work in Papua New Guinea. The initiator of the film was Krister Sköld.
​
​
​