When George became sales manager, it was running with a loss of about $ 500 000 a year. In one year, he turned it into a profit of $500,000 a year. He now wanted a reliable workshop manager who he could trust and offered me the job. I told him the truth that I did not know anything about portable firefighting equipment, but George convinced me that I would pick it up quickly. I accepted the job and commuted the 130 km between Toowoomba and Brisbane every day. I managed to put a stop to the thefts and I was going to be promoted to greater responsibilities within the company. However, God made it clear to us that he had other plans for Marianne's and my life.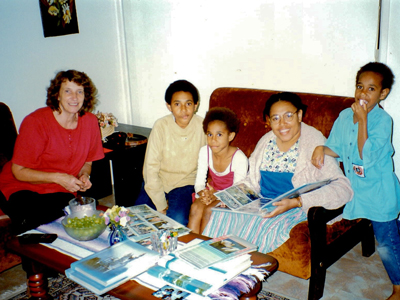 Papuan family visiting Marianne and Sven in Toowoomba
A while after we had established ourselves in Toowoomba, we started hearing about Kazakhstan. We first heard about Kazakhstan through the Assemblies of God Church in Toowoomba, which was supporting a missionary in Kazakhstan. We had never heard of this country before, but now we saw programs about the country on television. The country of Kyrgyzstan also appeared along with other names of the Central Asian ex-Soviet Republics which gained independence through the collapse of the Soviet Union in December 1991
After about two years, Marianne and I received a letter from the Assemblies of God World Mission's Director Dr George Forbes. He began the letter by expressing his excitement over the fact that Sonia was feeling well and that her studies went well. The letter continued something like this: "Maybe it is time for you to start thinking about what to do when Sonia has completed her Bachelor in Nursing and on what God wants you to do next. I have some suggestions that I hope you will consider and pray about, whether it could be God's plan for the future of your lives."
One of the suggestions was for us becoming responsible for the missionaries in Kazakhstan. I would become the Australian Assemblies of God field leader for Kazakhstan. Spontaneously, it definitely felt like something we could do, on the condition that this was what God wanted us to do. This was precisely what our question mark was all about– was this in accordance with God's will for us? I had not received a direct revelation from God that we were to be missionaries in this part of the world. I told George that we were open to this suggestion, but before we made up our minds we had to hear from God that this was what we were supposed to do.
In late 1997, the Assemblies of God World Mission came back to us. During the time that had elapsed from their last inquiry, the Assemblies of God World Mission had divided the world into regions to be able to serve its missionaries more effectively. One such region was Central Asia, including Turkey, Afghanistan, Iran, Azerbaijan, Turkmenistan, Uzbekistan, Kyrgyzstan, Kazakhstan, Pakistan and the Uighurs people of western China. They stressed that there was a great need for us to undertake the responsibility for this mission area and thus wanted me to be Missionary Director for Central Asia with an overall responsibility for the missionaries who served in those countries. We were asked whether we would take on this responsibility. "I have not 'heard' from God that this is in accordance with His will, and I am thus sorry to say we cannot do it." I replied.
As Marianne and I were meditating on whether this could be what God wanted us to do, we were reminded of Marianne's vision from 1984 (Ref Chapter 56), including the dark and difficult jungle walk with Jesus, and how we finally arrived at a large wheat field. As we reflected on all of this, the difficult years of Sonia's disease could very well be likened to the difficult and dark jungle trek, but at the same time, Jesus had been there and helped us through it all. Suddenly the picture became clearer and I realized that the great wheat field was the 1.2 billion strong not evangelized Muslim world, and that God wanted us to go to them. Only then, after about 13 years, I realized that God had told Marianne in 1984 that we were going to a new mission field.
There and then we decided to let the Assemblies of God World Mission know that we were ready to take on the mission work in Central Asia.
​
​
​
​