Sven speaks: When Sonia had completed her Bachelor in Nursing in Toowoomba, we moved to Brisbane. In that way, I did not have to commute daily between Toowoomba and Brisbane. At the same time, we advised the Assemblies of God World Missions Office that we were willing to be missionaries in Central Asia and that I was willing to accept the assignment as Regional Director. After that we waited for an answer how to proceed.
In February 1998, we began to wonder whether the Assemblies of God World Mission were still interested in us being missionaries in Central Asia, since we had not heard from them since December 1997. However by the end of February we had a visit from Pastor Kevin Hovey of the Assemblies of God World Missions Office. He said, among other things, that we ought to attend an eight-week course in the Philippines, which started in early April. The course was about how to best reach Muslims with the Gospel. "It means that I must immediately resign from my job, but the problem is that no churches have yet pledged to finance us, so how are we going to live?" I wondered.
On the following Monday, I resigned from my job, but once I had done that, the reality of our situation suddenly struck me: What had I done? We had no financial support arranged and we needed immediate funding of AUD 6 000 to attend the course in the Philippines. We actually had no idea how to get the money needed.
But then I got a phone call from my sister in law, Birgitta Göransson, in Tyringe. She was then a board member of the Filadelfia Church in Tyringe. She told me: "We have heard that you might be going to Kazakhstan. How is your situation right now? The thing is that our church received 20 000 SEK (4000 AUD) that a church member donated to us in a will. By the terms of the will, the money has to be used for foreign missions purposes, but our little church does not have any foreign missions work at the moment. If you are about to become missionaries in Kazakhstan, we feel that you should have this money." "Right now we do not need money for Kazakhstan, but we need to take a course in the Philippines. The costs are about 30 000 SEK (6000 AUD) and the 20 000 SEK would obviously be of great help." I replied. The conversation ended with Brigitta promising to get back to us with more information. The news was that they had decided to give us these 20 000 SEK and would by the next Sunday collect an additional offering that they would give to us also. The additional offering gave enough money, that together with the other 20 000 SEK, they covered the total costs of the course in the Philippines.
Asian Pacific Theological Seminary in Baguio
Marianne and I traveled to the Philippines with both an exciting and unsettling feeling about the future.
When we arrived in Manila, we took a taxi to the Christian guesthouse where we would stay a couple of nights, before continuing to Baguio. The taxi driver had a difficult time getting there, so I took out the envelope with the tickets and traveler's checks. In the envelope was a letter that described where the guesthouse was situated. When we arrived, I forgot the envelope in the car and there we were without any return tickets or money. We took another taxi back to the airport in the hope of finding the taxi in which I had forgotten the envelope, but of course we did not. We reported the loss to police and the airline. The airline was very accommodating and immediately wrote out new tickets for us. After the bank had done its own investigation of the reported loss of our traveler's checks we received new ones. After a few weeks we had our money back and we could pay our school fees and living expenses.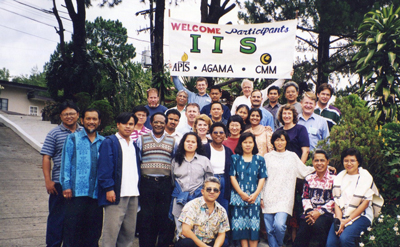 Marianne and Sven together with other students in Baguio
The course in Baguio was a life-changing experience. It was about ten teachers from different denominations, Baptists, Presbyterians, Plymouth Brethren, and of course from the Assemblies of God who organized and sponsored the course. All had extensive experience evangelizing in the Muslim world. It was a lot to take in during the short period of eight weeks.
At the end of the course, I was advised by the Assemblies of God World Mission Office that I immediately after the course had to go to Pakistan to sort out some problems there. "But I have no money." I said. "That's a problem between God and you." was the reply. One might think that it is a tough message that someone calls and asks you to go to a place to solve a problem but at the same time tells you that you will have to organize the money for the trip yourself. "If it's God's will that you are to go, the money situation will be solved, so there's nothing to worry about." my informant concluded. It is extremely frustrating not to have money when you know that there is something you have to do. But when God later solves the problem, a great and liberating feeling fills you. It lifts one's faith and makes you trust in the Lord like nothing else. This time a person, called from Hässleholm in Sweden wondering if I needed 20 000 skr, was the solution to the problem.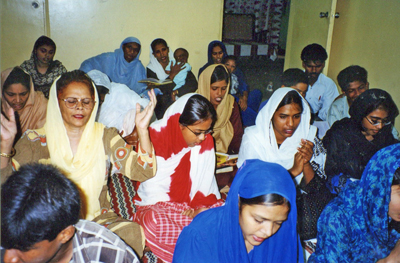 Church Service in Lahore, Pakistan
The Australian missionary working with the Australian Assemblies of God World Mission in Pakistan was a brother born in Pakistan but had for a number of years been living in Australia and was married to an Australian. He had been sent out by the Australian Assemblies of God World Mission to work with and under the National Executive of Pentecostal Movement, Full Gospel Assemblies of Pakistan, which was the fruit of Swedish Pentecostal Missionaries in Pakistan. He had not been there for long, when the National Executive of FGA wrote to Assemblies of God World Mission Office in Australia, letting them know that they did no longer want him around. The reason was that he did not submit to the Executive. I found out that the Gävle Pentecostal Church was the Swedish Contact Church for Pakistan. Through their pastor, Berndt Wikman, I found out the name and address of the Swedish Free Mission Field Leader in Pakistan, Birgitta Almeby. I contacted her, introduced myself and said that I was coming to Pakistan in order to try to sort out the problems we had caused.
Just before I was going in June 1998, I learned that the Deputy Director for Assemblies of God Mission, Ps Kevin Hovey, was going to come along on the trip. After having arrived in Lahore in Pakistan we set up a meeting with the National Executive of the Full Gospel Assemblies of Pakistan together with the Swedish missionary, Birgitta Almeby. They described how the Pakistan-Australian missionary undermined their work and wanted the Assemblies of God World Mission to re-call him to Australia.
After the meeting, I felt that their appeal was justified, but Kevin thought that we should instead start to cooperate with another group of churches that were linked to the Assemblies of God in America. It turned out that this group of churches had "broken away" from the Full Gospel Assemblies of Pakistan. There is of course nothing wrong in starting new churches; I have always encouraged that, I am however against a group of churches within a Fellowship of Churches breaking away and forming their own separate church movement which was what was happening here. I was also very uncomfortable with the Pakistan- Australian missionary's attitude towards the national pastors. He did not se them as his co-workers, but saw himself as superior to them. As mentioned earlier in this story, this did not agree with my thoughts on how missionaries should be working and conducting themselves in their relationship to the National Pastors (see Chapter 47, for example). Despite my misgivings, the Assemblies of God World Mission of Australia decided to support the Pakistan-Australian missionary in his work. This was the first time I began to realize that I did not fully share the Assemblies of God World Mission in Australia's idea of how mission work should be conducted. Unfortunately, my fears came true and the churches split further.
​
​