Sven was born on 30th April 1943. He spent his early years in Matteröd, a small village in northern Skåne, where his parents Erik and Evy Göransson had a small farm. His parents were highly respected in the district and his father was entrusted in many political engagements.
Sven's father was saved during his youth in the Mission Association Church of Sweden (Svenska Missionsförbundet) but later on he came to build up the "Sion Church" (Sionförsamlingen) in Matteröd (which is now the Pentecostal Church of Hässleholm). Erik was the president of the church for many years.
Sven tells us that he had a very strict upbringing. When one did not behave, one had to endure the rug whip and it happened quite often, Sven says and laughs. (Laughter is never far away during Sven's stories.) We were eight children in the family – six of the children were boys, which meant we got into a lot of mischief. When I was two years old I started Sunday school. In those days Sunday school started before the morning service. Therefore, I first attended the Sunday school and then the morning service during my childhood years. There was a church service on Sunday evenings as well and in addition, a prayer meeting on Saturday nights. From the time you were 5-6 years old you attended all of these Church services.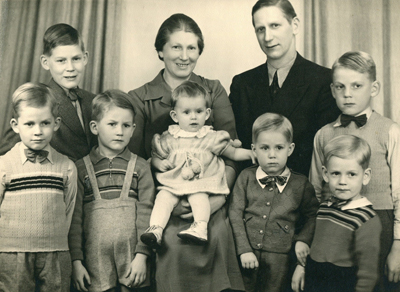 Sven, second from left in front row, with parents and siblings in 1948
Sven's father read the word of God and all of the kids could pray if we wanted to. For me, the childhood was a pleasant time of my life and I appreciate my father and my mother very much. I have later on in life realized that some of my siblings had or still have a different opinion but I have still great respect for my parents' lifework .
My father was a farmer and owned, as I earlier mentioned, a small farm in the northern parts of Skåne. This was not profitable during the 1930s, and my parents endured a very difficult time. They had to apply for several loans and continually hoped that their living situation would improve. The first thing I remember when speaking of this part of my life is that food was scarce. It was a real treat when you got a cup of chocolate and an egg to put on one sandwich and a slice of cheese on the other once a week on Sunday mornings – this never occurred on weekdays. In other words, we were quite poor, at least by today's standards, but we always had enough food.
Parents´ farm in Matteröd
When we were 5-6 years, we started to help taking care of the animals. When we got older and started to attend school, we never really had a summer vacation since we always had to help with agricultural duties. The work mainly consisted of clearing the sugar beet and potato fields from weed. These fields were not small garden patches but rather massive courses of crops. I remember one summer when I asked to take a break for at least one day just to go out in the woods and enjoy being free. One must remember that helping out, as a child in the fields, was not something unique to our family. The same duties applied to many famer kids of my generation. I had, as I previously stated, a good upbringing. Although, sometimes I got the feeling that I did not really belong in this context, but was on my way to another destination.
I felt the need to ask for forgiveness for my sins for the first time as a 6-year old. I told my mother and together we knelt and prayed. One day, when I was seven years old, I was walking home from school. I can still picture in my mind the bend of the road where I heard a voice inside of me that said, "Sven, you are going to become a preacher one day." Do not ask me to explain how a 7-year- old understands this, but I just knew that God spoke to me and in my heart I said: "God, if that is what you want, so be it."
​
​