The Eriksson families' intention was to travel to Council Wingti's home village, Molo, in the Southern Highlands. To get there, they took a boat from Rabaul to the city Lae on the mainland. There was a road to Mount Hagen from there. In Lae, or possibly Goroka, they bought a new Toyota Land Cruiser and a caravan. Along with them was a man named Philip Kaiwe, a national evangelist who spoke English, Tok Pisin (=Melanesian pidgin) and viro, the local language in Molo. Joseph Yan was another national evangelist who collaborated with Ludvig and Hilding. It is unclear if he was on the trip from the beginning or joined them later. Both these evangelists had worked with the Finnish missionaries in Rabaul and were good preachers. Ludvig and Hilding would never have been able to make themselves understood without their help.
On their trip to the Highlands they met some Pentecostal missionaries in Lae and Goroka who provided them with tracts in Pidgin issued by TL Osborne. They also received bible movies and a projector. These turned out to be very effective tools for evangelism. They used a speaker to announce that they were showing a movie. First, they showed a film of about 20 minutes. Afterwards, they held a church service that lasted for about 1 ½ hours and then finished it off with another film.
When they arrived in Mount Hagen, it seemed impossible to continue their trip to the Southern Highlands and Molo, since the road ahead didn't have any bridges. They were thus forced to stay in Mount Hagen. It was not an easy task to find a place where they could set up their caravan, but at last they found a Chinese businessman who let a small place behind a shed on an industrial site in Warakum, a district of Mount Hagen. Later, they also rented a part of the shed to start a small grocery store. The profit gained from the store was used for the missionary activities. They even rented a small room in the shed for worship services.
When Ludvig and Hilding and their wives came to Mount Hagen, everyone they talked to told them that it was impossible to start a missionary work there. The Australian administration (until their independence on Sept. 16 1975 Papua New Guinea was administered by Australia) did not allow different missionary societies to operate in the same village. The reason for this prohibition was the risk of confusing the nationals because of various proclamations. The villages in the Western Highlands had been divided between Catholics and Lutherans, and no others were allowed to build churches in these areas. This was what it looked like before the independence.
Although, in Mount Hagen and south of the city, it was possible evangelize. They handed out tracts and had services outside, both in and around Mount Hagen. Evangelists Philip Kaiwe and Joseph Yan preached. Hilding played the accordion and Ludvig the violin. They also showed the bible movies. Eventually, this movement expanded and came to include the Molo area in the Southern Highlands. There were seven villages that each of them had their own Wesleyan Church. The village people claimed that the Wesleyan missionaries had left them. When Ludvig and Hilding were told that these people were not baptized, even though some of them had been saved for nearly five years, they decided to baptize anyone who wanted to. (The Wesleyan people had a rule that you would have to be saved for at least five years until you could get baptized). Because of this, there were seven small churches, which they called "Filadelfia". It turned out eventually that the Wesleyan missionaries had not abandoned their Christian brothers and sisters but were temporarily in their home country for a period of rest. This "takeover" of the Wesleyan churches led to major problems. Hilding and Ludvig got a bad reputation among the evangelical missions. The result was that they were not allowed to use the missionary aviation "MAF" or the radio communication, which was shared by all the evangelical missions. They had to live under these circumstances until 1977, when Sven managed to normalize the relations. I will return to this story later.
Old bush material church building in Waknum, Papua New Guinea
It was allowed for the various religious communities to build churches in Mount Hagen to take care of the people who were members of their community and who were visiting the city. For this reason, there were different evangelical churches in Mount Hagen. A Catholic missionary, who Hilding and Ludvig had contact with, told them, like all the others, that they would never be able to build a church in Mount Hagen or in the Western Highlands. However, he added, one option was to buy an industrial property and start working on that basis.
​
​
We have now reached the later parts of 1973, or possibly early 1974, reaching closer to the date of the independence. Many nationals believed once the country had its independency, they would take over all buildings owned by foreigners. This misconception led to many Australians fearing that this would all turn into carnage after Papua New Guinea had gained its independence, and they therefore sold their operations at very low prices. So thanks to this Ludvig and Hilding found a property in Warakum that Ludvig bought for 10,000 kina. It was about 10% of the original price for the property. (At that time, the value of one kina corresponded to one Australian dollar. Today, in 2012, you get about two kina for an Australian dollar.) The property included cabinet- making with a full set of machines and tools, and two apartments, each with three rooms. In a separate building there was another three-room apartment. They stopped their operations on the "Chinese property" and moved over to their newly purchased property. The services were held in the carpentry workshop.
A little later, Hilding bought a sawmill, Highland's Timber, from a Seventh-day Adventist for only 5000 kina. The purchase included, in addition to the sawmill, two bulldozers and three trucks. He re-sold the bulldozer for 5000 kina and thus financed the entire purchase through this sale. The sawmill was in Mount Rondon, one of the mountains outside Mount Hagen. Hilding and his wife Ingrid settled at the sawmill. Hilding chopped some timber, which he later sawed and sold. They earned some money for living expenses and other activities. In addition, he was able to help missionaries to buy cheap timber to their churches and missionary housings. Ludvig and Elsa lived in one of the apartments at the carpentry.
Maybe the sawmill purchase deserves a bit of an explanation. It so happened that the Seventh-day Adventist wanted one of his employees to buy the sawmill. He gave out an additional salary bonus of 5000 kina to the employees .He put up a notice that the sawmill was for sale for 5000 kina and hoped that one of the employees would buy it. To his great regret, they were not interested, but spent their "extra money" on other things. It was not until then he offered Hilding to buy the sawmill. The purchase of these two properties secured Hilding's and Ludvig's missionary activity a foothold in Mount Hagen and on the Western Highlands.
In 1974, the Finnish missionaries in Rabaul understood that Ludvig and Hilding had managed to start "something" in Mount Hagen and the Southern Highlands. Matti Kumpulainen came to Mount Hagen to help Ludvig and Hilding. They welcomed him with joy. He and his family stayed in one of the apartments in Warakum. Matti had some experience in church building, which Ludvig and Hilding did not have. Under his leadership, the church services reached a new class, but he was always careful to consult with Ludvig and Hilding first. Matti also made sure that evangelists came to Tari and Mendi in the Southern Highlands and Wabag in the Enga Province.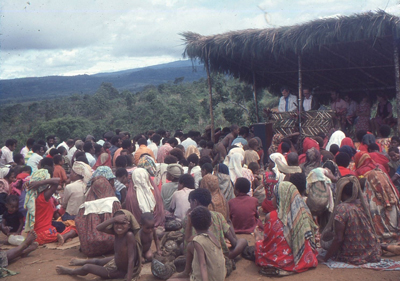 The mission which was responsible for their invitation to Papua New Guinea was Full Gospel Outreach in Rabaul. For this reason, the name Full Gospel Outreach had been used in Mount Hagen, but it was not registered with the authorities. Ludvig and Hilding did not see their activities as part of the movement in Rabaul but rather as independent. They wanted to register their activities under the name of "Filadelfia Kristna Kongregesin", which they thought was an appropriate pidgin translation of the Swedish concept of the Filadelfia congregation. They thought that all Pentecostal churches in Sweden were called Filadelfia. Matti agreed that they should apply for this name and he got them a lawyer to prepare all the documents in order to get the name registered with the authorities. When Sven and Marianne came to Mount Hagen in August 1976, the registration had just gone through and Sven had to form a board and so on – but more about this later.
During 1975 and 1976, several Finnish missionaries came to the Highlands. They "took over" many of the congregations created by Ludvig and Hildings activities. The Finnish missionaries registered these congregations under their own names. This led to a split between the Swedish and the Finnish mission. When Sven and Marianne began their missionary work in Papua New Guinea, they started on the basis of the activities in Warakum, today named Philadelphia in Warakum. From this small start the activities have evolved, as I mentioned in the introductory chapter, to a movement of over 400 churches and about 60,000 members. It is the largest Pentecostal activity in the Highlands. Other churches not belonging to the Assemblies of God have also sprung out from this movement. I will return to how all of this eventually became a part of the Assemblies of God in a while.
​
​
​
​