Sven speaks: I have to go back briefly to 1981, when Marianne and I were in Australia. Back then I received a letter from Anders Olsson, who was in Papua New Guinea, in which he told me that our organizational chart of Filadelfia had been approved by the government. He also wrote that they now intended to use the organization of Filadelfia to apply for visa for new missionaries. I understood that Anders didn't know anything about the agreement Samuel Halldorf and I had made with the Assemblies of God back in 1980. It turned out that Samuel never told the Swedish churches directly involved with the work in Papua New Guinea, neither did he tell Anders and Kristina Olsson before they went to Papua New Guinea. I immediately wrote to Anders and said: "Whatever you do, do not try to use the name of Filadelfia for the purpose of applying for visas for missionaries, since we back in 1980 officially advised the Papua New Guinea government, that all future visa applications will go through the Assemblies of God." I also told him about the contract that Samuel and I had made with the organization.
Anders forwarded my letter to Samuel and asked what all of this meant. Samuel only commented on the portion of the letter that said the agreement was subjected to the churches within a two-year period joining the Assemblies of God. His comment entailed that he wasn't sure if it was two years.
Anders was sent by PMU, the Pentecostal Mission's Third World Aid (today known as the Pentecostal Mission Development) to work with the Vocational Training Centre in Mount Hagen. But the fact that PMU didn't have any knowledge of the agreement with the Assemblies of God complicated everything. This put Anders in a very difficult situation. When Marianne and I later came back to Papua New Guinea, I wrote to Samuel that he must tell the churches and PMU about our contract with Assemblies of God because it was a no-win situation if no one knew about the situation. I am not sure he told them at that time either.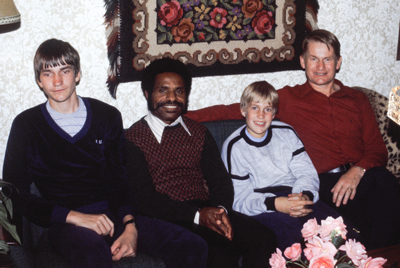 David, Allan Lepa, Andrew and Sven on a visit to the author's home in 1985
When we were on a visit to Sweden in 1985, I went by train from Hässleholm to Linköping together with Sven Strömberg. He was the pastor of the Pentecostal church in Hässleholm at that time. We were attending a Pastors Conference for Swedish churches being involved in the work in Papua New Guinea, to be held in the Pentecostal Church in Linköping. During the train ride, I talked about how the agreement with Assemblies of God had been made, and how the churches in the Highlands now were in fellowship with the organization. When I had finished, he asked me whether I would be prepared to tell the conference what I just had told him. "Yes, I'm more than happy to." I replied.
​