We made an ID card with the name and photo of the pastor with our church seal covering part of the photo. There was also information of the name of the church, the pastor was looking after including the name of the village it was located in, together with the pastor's signature.
On the inside of the folded card it was written, "This card is to advise that the holder, whose name and signature appears on the front, and whose photo with our seal appears in the right hand corner, is a pastor of the local church, named on the front of this card. The members of this church will not be participating in any tribal fight, but will work with the police to stop such fighting. Neither will they be involving themselves in receiving or giving compensation payments for people killed."
This part was signed by Kundi Pok and myself originally, but later by the regional superintendent and regional secretary. The card was issued for 12 months validity and renewed every year.
On the back of the card was written: Police Officers, when there is a fight in this village, please respect this card. Do not put this man or any of his church members in jail. This section was signed by the Western Highlands police commander and sealed with his official seal.
The front and the back of the ID card.
When we showed the proposed ID to the Western Highlands police commander he thought that they were very good. At this time, there were churches in about 60 villages involved in all of this. We made ID cards for the pastors of each church. Kundi and I signed on the inside of the folded card, as the ones who had identified the person. The Western Highlands Police Commander signed and sealed the instructions to the Police Officers with the Police official seal on the back of the card as a confirmation that this was an official order from the Western Highlands police commander.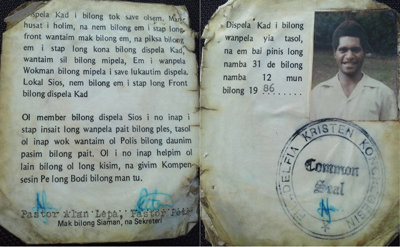 Centre pages of the ID card. This particular card is not signed by Sven. It was issued when Sven was in Australia.
These cards proved to work very well. When the riot police came out to the villages, the pastor showed his ID card and pointed out his own and his members' houses and gardens. The riot police cooperated and respected what the pastor said. There were many churches, houses and gardens that thus escaped being burnt down. Although there were many different churches and missions in Papua New Guinea which had ID cards, ours were the only ones that the riot police respected. This created quite a stir in the villages and people in general showed a lot of respect for our work. The reason behind the police's confidence in our work was thanks to Kundi Pok and Sylvester Timbi refusing to involve themselves in any blood revenge when their children were killed in traffic accidents.
​
​
​
​