In this chapter as well as the one following, some names and places have been omitted for the sake of safety of the persons involved. When we in this section talk about dollars, we are referring to U.S. dollars. During the years 1999-2002, the USD rate in Sweden was approximately 9-10 kr.
Sven speaks: In February 1999, we arrived in a very cold Almaty, Kazakhstan. Sargon Daniali, who met us at the airport, had rented an apartment with three rooms and a kitchen for us in the northern part of central Almaty. The accomodation was on the ninth floor and, according to our measurements, in a poor condition. None of the cupboard doors closed properly because they were hung crookedly. We rented a furnished apartment, but there was not much furniture. As we were moving a desk, it fell into pieces, but with screws and glue, I managed to get it together again. Bricks held up one corner of the bed as one of the bed legs was broken. The monthly $450 rent was more than we had expected.
We were in the country as aid workers. Since it was difficult to find good interpreters, we decided to start studying Russian at a university, but after six months of studying, I realized that I would never learn the language well enough to be able to communicate well in Russian. So to be able to start any work in a reasonable amount of time, I had to find an interpreter. Eventually we found a young lady who was quite proficient in English and who came to serve as our interpreter for most of the time we were in Central Asia. We learned enough Russian to cope with our everyday tasks.
Since cooperation with the Teen Challenge did not improve, we continued the preparation of the legal documents for the registration of The Social Fund "Zabota". In mid-1999, the legal registration of Zabota was completed. During our time in Central Asia, we were able to provide visas for about 20 workers through this social fund.
Together with the people in Sargon's Church in Almaty, we were able to immediately start working with needy people. As time passed by, there were other pastors and churches that came to us and asked us to help them to serve the people in their community. Some of these groups would have ceased functioning without our help. In 1999 and 2000, we worked with ten different groups of people throughout Kazakhstan.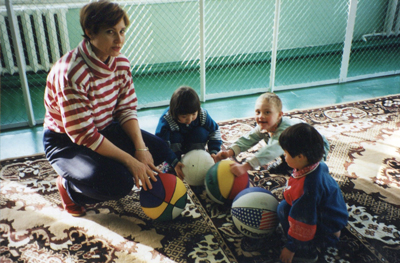 The orphanage that Zabota helped in various ways
Working with the pastors and their churches helped us finding social projects for the Social Fund Zabota to be involved in. The need for this was huge, if not insatiable. In the beginning of our stay in Kazakhstan, we began helping a state orphanage for handicapped children. It had a lack of staff and almost no resources. The children were neglected and remained in this home until the age of 16, if they even made it to that age. You almost got the impression that they wished they would just die. Those who reached the age of 16 moved to a retirement home where waiting for death could be very long.
We got permission to go there once a week with a group from church to play with the kids and read to them. We also helped them with materials and toys. The collaboration was expanded and one of our church members visited the orphanage almost every day. Eventually, we hired a doctor, a social worker and a physiotherapist to work at the orphanage. Zabota paid for everything. We also built a small gym in order for the physiotherapist to have somewhere to work. Many of the children had never been able to walk but thanks to the physiotherapist's help, they learned how to do it. We also bought medicines and other aids that the doctor needed to help the children achieve a better state of health.
We continued with this work for several years, but eventually the authorities realized that they had to take greater responsibility for these activities. The standard of the children's home was improved a lot during this time.
There was a woman in Sargon's church who worked with marginalized women. She told me that there was no place where one could offer these women care and assistance for an extended period of time. This hampered the rehabilitation significantly. She felt incredibly frustrated that when she had talked to these needy women, all she could do was to let them out on the street again.
When we looked closely at it all, we realized that there were quite a number of rehabilitation centers for young men but not for women. We discovered that there were lots of women who lived on the streets because their men had abandoned them. Many died during the cold winters and their children had to steal in order to survive. The abuse of alcohol and drugs was extensive. To make it all worse, marijuana was growing wild on the side of the streets and the roads.
When you realize how great the problem is, it is easy to feel powerless to do something about it because you realize you cannot help everyone in need. However if you cannot help everyone, start focusing on at least trying to help someone. We decided that we would try to start a home for women in crisis. One of the problems, of course, was the lack of money. On a visit to Australia in mid-1999, I brought this idea up with the Assemblies of God World Mission Office. They gave us a green light for the project but promised us no money. We decided to work on it in faith and when we were back in Kazakhstan, we began to look for a suitable house. Since the properties in Almaty were quite expensive, we also looked around in nearby towns.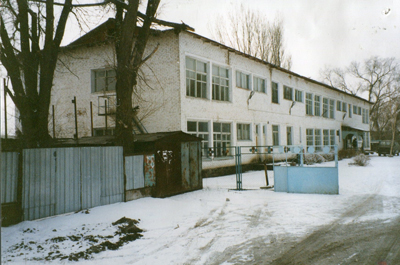 The house that was converted to women's center
Among other places we went to Kapchigai, which is about 100 km from Almaty. We asked the mayor if he had any building that he could make available as a home for women in crisis. His first counter- question was: "Why would you want to help women? It is more important to help young men?" He did not understand us at all, but his attitude was, like I said, in no way unique. Despite his attitude he showed us some houses that we could have used, but in our eyes they looked almost like ruins. Finally, we came to a town, called Zarechny, about 16 kms from Kapchigai towards Almaty where he pointed out the two buildings owned by the Government. He said we could choose which one of them we wanted. We picked the one we liked the best and suited our purposes.
Our lawyer advised us not to accept the building without having paid for it. There was a big risk that once we had set up the building, he would just take it back. We met with the mayor again and said that we wanted to buy the property in order for us to improve the building as we pleased. He promised then that we could buy it for $11800. It was a good price but it did not help us as we only had $1800 cash in hand for this purpose. Months went by and we were getting close to the date we had to send in our payment for the property, if we wanted it. I was just about to ask for a new meeting with the mayor to tell him that we could not buy the property, when we received a letter from Marianne's brother Sune. He told me he had a check for $10000 for us. He wondered how we wished him to transfer the money to us.
​
​