There is an event during Marianne's and Sven's time in Papua New Guinea, which came to primarily affect their fellow missionaries, Kristina and Anders Olsson, but also left a deep impression on Marianne and Sven themselves. It is important to describe the "Why?" with a few lines.
As stated elsewhere in this story, Kristina and Anders Olsson came to Papua New Guinea as missionaries for the first time in January-February 1981. Anders was to teach in the Vocational Training Centre, but he ended up in a situation where he had to take a much greater amount of responsibility since Sven and Marianne returned to Australia for reasons outlined in Chapter 36. Marianne and Sven came back to Papua New Guinea in August 1982, and the Olsson family went back to Sweden already in December 1982, so their time of working together at that time was fairly short.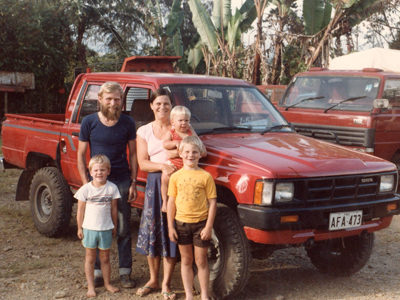 The Olsson family in 1982
In September 1983, Kristina and Anders Olsson returned to Papua New Guinea. This time, Anders was to work as a teacher at the Bible College. He also became the principal of the college. Krisitina and Marianne worked well together, in particular when it came to the women´s work. In December 1986, the Olsson family went back to Sweden for a period of rest. They returned in September 1987 for what turned out to be their last period in Papua New Guinea.
Anders continued teaching at the Bible College and Kristina continued her work with Marianne. Eventually, Kristina's growing belly gave us a clue about the fact that the Olsson family would be increasing. They already had three sons. The baby was due to be born in early January 1989. Since Kristina's three previous deliveries had been uncomplicated, they were not very worried about the fact that she was to give birth in Papua New Guinea. Babies were born even in this country all the time.
But when the date of birth approached, they were encountered with complications. Kristina suffered from preeclampsia. Little Erika was born on January 6th, 1989 but she did not survive and Kristina's state of health grew worse. They sent for an air ambulance from Australia but the only thing the doctors could do on arrival at Brisbane was declaring the death of Kristina on the 9th of January 1989. The three little sons first attended Erika's funeral in Papua New Guinea. At this time, Anders, the father, could not participate since he had flown to Australia to be with their mother. A few days later, they attended their mom's funeral in Brisbane. These were obviously very difficult days for Anders and his sons.
Heartbroken, Anders travels back to Sweden with his boys. A long and difficult period follows, in which Anders wrestles with the scripture "But seek first his kingdom and his righteousness, and all these things will be given to you as well (Matthew 6:32)." Anders has a hard time with this scripture since he thinks that he has followed the kingdom of God first, but he has certainly not been given "all these things as well". On the contrary, he has lost his beloved Kristina. But, as Anders says, "Since God is our father, he tolerates us fighting with him."
​
​