From 1982 to 1995 I was the Highlands Regional Director for the Assemblies of God PNG Mission. I then spent a lot of time guiding and assisting other Assemblies of God Missionaries working in the Highlands, with problem solving both in relation to their work with the Mission and also relating to their personal lives.
Much of my time was spent solving the difficulties, which arose in and around the work of the churches and mission. In a rapidly growing movement, minor and greater problems are quite frequent here and there. Sometimes, the pastor did not know how to handle a problem. Other times, it was simply because the pastor did not want to deal with the problem. Most of the times such problem solving was something that Kundi Pok and I did together.
A part of my job was to encourage our members to plant new churches. We started to keep track on some statistics regarding developments in the churches. The basis for these statistics was received by all the churches filling out a form. It included questions about how many people were saved and baptized in the past year and how many members the church had at the time. The last question on the form was: "Where are you, as a church, going to start a new church the following year?" The question forced the congregation to consider where and how they could do this. Based on what they wrote, we encouraged them to proceed and we taught them about ways to start a church as well. Mostly, the first step was to start a small house fellowship on the new location.
Sometimes, the work was enlarged in the most unexpected ways. For example, when I some time around 1983 to 1984 received a call from a totally unknown man. We had never met and he did not know me either. But he had had a dream, or perhaps we should say revelation, in which he saw me, got my name and phone number. He called and asked for us to meet. He lived in an area called Baiyer River, which was located beyond the area in which we intended to plant churches. We thought that there were other evangelical churches that worked in this area, and in addition to that, I felt that the work was too widely spread already for us to be able to take on any more work. But, like I said, he had in his dream realized that we ought to get there and so we did, of course. He showed us many villages that we did not know and in accordance with his desire, we started a work in this area. Today there are about 35 Assemblies of God Churches in this area.
On another occasion, there was a male nurse at the Mount Hagen hospital that was saved. He returned to his village that is situated in the Chimbu Province and began to testify about his salvation experience. We thought that this area was a little too far away from our work in Mount Hagen. But after a while they contacted us and wanted us to get there and arrange a baptismal service. Since I knew that there was already a Pentecostal Church established in this area through the Four Square movement, I suggested that they should ask Four Square to baptize the new believers and thus take care of the work there. But there was no interest on their part, so we arranged a baptism and today there are about 40 churches in this area.
Originally, the village church buildings often consisted of large grass huts but as the congregations grew larger, the need for more and better church buildings became greater. It was a big project for a church to build a church building with sheet- metal on both roof and walls. Mostly they tried to get financial help from external sources in order to build their church building, but I taught them that they must take a personal responsibility for building their own church building as well as the responsibility for the other work of the local church. Sometimes the landowner wanted to be paid for the land on which the church building was to be erected. He would sometimes come to me with the hope that I would arrange the money, but my response was that they had to collect an extra offering to gather the money.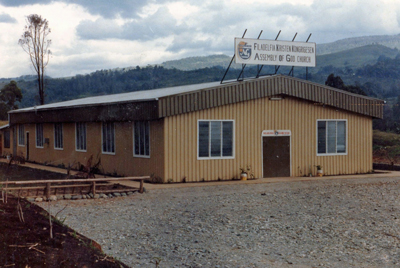 Filadelfia in Mount Hagen
There were other variations on this theme. Once, there was a man who invited a pastor to erect a church building and a house for the pastor on his land. But one day the man came to see me, and wanted me to pay him 500.00 kina for his land. "You will not get a single toya (minimum coin) from me." I replied, and I continued, "It's your work and your church building. This is not something you do for me but for yourselves. If you don't want to help the pastor, and make it possible for him to live there so that he may grow sweet potatoes on the land, I will tell him that he'll have to move to another location." "No, no." he answered, "I shall make sure that there is a church building erected, and I will buy metal roofing for it. I will give the pastor the land so that he can plant a garden. I will also provide him with some coffee bushes so that he can sell coffee beans and thus get some cash." After this, there were never any further problems regarding the land issues on that location. With that said, I always carefully taught that financing the work of the church was the responsibility of its members and not someone outside the church paying for various things.
To prevent any misunderstandings about this, there were of course situations where outside help is required, such as when a ministry is starting out in a new location. Or in places where people are so poor that they are unable to find the necessary funds, but in time it is important that the locals are given and are accepting the financial responsibility for their own ministry. A few other little stories can help to illustrate this.
Once, I visited a place far out in the bush where they were in need of getting a small handheld megaphone speaker to be used for their open air services. Since the price was 85 kina and they only had 25 kina, I was expected to contribute the remaining 60 kina. After the service one of the church members asked me if I could help him by taking some coffee sacks to Mount Hagen. "Sure, that's fine." I said. As we were loading the coffee bags, I asked him "How much money will you get for these coffee sacks?" "Well, approximately 600 kina." the owner of the coffee bags replied. "Well! Your tithes on that will give the church enough money to buy the megaphone speaker they are after," I responded.
And so they did.
In another church, the members had been praying for money to build a church building. Suddenly, the coffee prices were raised because of a crop failure in Brazil. I urged the members to take this opportunity and sell coffee now that it would be well paid for. They did this and were thus able to erect their new church building.
At yet another place, where they were going to build a new church, the pastor urged the members to grow more crops of sweet potatoes in order for them to sell more on the market in Mount Hagen and thus get money for a church building.
​
​
​
​