For a brief moment, let's return back to the autumn of 1966. When Sven had met Marianne for a few times she had talked about the possibilities of immigrating to Australia. At this time, the Australian government paid the travel expenses for Swedish emigrants because they wanted to attract immigrants from northern Europe. The only condition was that they stayed in Australia for at least two years. Sven thought that this was a good opportunity to learn some English for future missionary work in India.
Sven speaks: I submitted an application to the Australian Embassy in Stockholm. In late January 1967, I received a granted visa and permission to travel. This allowed me to stay in Australia for one year.
I have previously told you about what happened during the winter and spring of 1967. Sometimes the thoughts about Australia came back to me but it did not feel like it was the right path for me. My plan was to be a missionary in India. On the Nyhem Week, in June 1967, I came in contact with Stanley Sjöberg who at the time was a pastor in the Filadelfia Church in Stockholm. Since his brother, Kjell Sjöberg, was a missionary in Pakistan, I asked Stanley what I would have to do to get an Indian visa. He replied that it was basically impossible to get a visa in India as a missionary. Although, I could possibly get a visa in Pakistan – it was almost the same type of people as in India. "Maybe that's what God wants you to do," Stanley continued. I thought that maybe this could be God 's will. Stanley asked me to contact him once I got back to Stockholm so that we could talk further about this.
When I later met with Stanley, he suggested that I should go for a three-months´ English course in England. After this, I would be able to go to Pakistan and learn the Indian and Pakistani language "Urdu" for one year. When the course in Urdu was done, I would start helping Kjell Sjöberg with his missionary work in Pakistan.
At this point, Marianne and I had started to go out together. We naturally thought about how all of this could be combined in a shared future. Our plan entailed Marianne travelling to Pakistan as soon as I had established myself there so that we could get married.
The income of an evangelist on the Mälar Islands had been very modest so I had not been able to save much money. Thus, it wouldn't be easy for me to go to England for language studies. I wouldn't be able to go to England unless "God arranged the money" somehow. One evening, as Marianne and I were on one of the tent meetings held by Filadelfia Church, Stanley asked me to come up on the stage and say a few words at the end of the worship service and invite people to receive prayer. After the service, Stanley tells me that he had received a promise to take up a secondary offering during a youth service. The money received during this service would be a gift to finance my trip to England.
The secondary offering consisted of 3000 kronor (SEK) and it was just enough to pay for my stay in England. As I mentioned earlier, I quit my service as an evangelist on the Mälar Islands and traveled to England on the 3rd of September in 1967. It was the same day that Sweden changed from left- to right-hand traffic.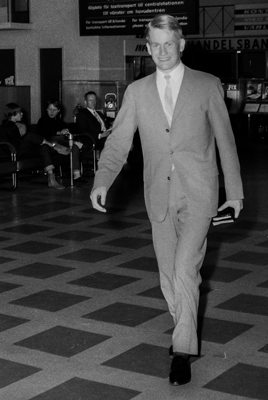 Sven at Bromma Airport on the 3rd of September 1967 on his way to England.
Before Marianne and I went to England, I had received suggestions for three guest-houses that could solve the question of living accommodation during my stay in England. My English was so bad which meant that I could not manage on my own. Marianne had to come with me and ask if there was a room available to rent. None of these three sites had a room left to rent. Now, I was very perplexed. Marianne had to board the ship, which would take her to Australia, the same day. Before we took a tender farewell of each other, she left me a note with the address of a Birgitta. This Birgitta lived in Birmingham and was the daughter of one of my aunts, in other words my cousin. Marianne had, along with my parents, made a visit to this aunt when I was on the Mälar Islands holding the farewell meetings. Because of this, she had received the address of Bigitta. If Marianne had not visited my aunt, I would not have had a clue where in England my cousin Birgitta lived.
When Marianne had gone, Birgitta was the only contact I had in England. I went there and luckily she and her husband were at home. I was welcome to stay there a few days. I got help with writing letters to the three guest-houses that I had already visited. After a few days, Birgitta made a phone call to one of the guest-houses. One of them had a room available, since one of the lodgers had to travel back to Germany for family reasons. On the following Monday, I got access to the room and on the Tuesday I was able to begin my studies as planned. God was with me all along and helped me out with everything.
The studies went pretty well. After I had been in England half of the 3 months, I received a letter from Stanley Sjöberg where he told me that it seemed impossible to get a visa for me, allowing me to travel to Pakistan. "You really need to pray to God about this," Stanley said.
During the last six months, everything had "fallen into place" but now it felt as if I was "up against a wall". I had felt like I was "walking the waves" and I had thought that it would always remain like this, but now I felt as if I was suddenly "drowning". I threw myself down on my knees and cried out to God: "What is this? What is happening?" There on my knees, God spoke to me: "Sven, stand up and look out through the window". I stood up, looked out and saw an aero- plane in the sky. After the plane I saw the condensed, white stripe that spread out like a path across the sky. The Holy Spirit spoke to me: "Sven, you cannot see the road on which the plane is on, but after it has flown you can see its traces very clearly. This applies to your life as well. At the moment, you cannot see the road ahead of you, but later on you will be able to look back at your life and see how I have led you through it all". This filled me with joy and made me jump around the room. I praised God that I was still in the midst of His will for my life. Therefore, I spent no more time worrying about how it would all work out with money and support.
When I had finished the course in England, I travelled home to my parents in Skåne. One day my father said to me: "Sven, you have a student loan of 500 kronor (SEK) that needs to be paid on the 31st of December 1967". "I know", I replied. One might think that this was not that much money, but for me, who was currently broke, this was a huge sum. The 3000 kronor (SEK) had been just enough to include travel, studies and living expenses and now I was completely broke. "How are you going to pay back the loan?" my father continued. "I don't know." was my answer. "Maybe you could ask CG Colleen if you could work there for a while", he suggested. But this was not an option for me since my plan was to, at the beginning of next year, travel to Pakistan. Yet again, I turned to God and asked for His help. I felt confident that he would solve it all.
This was just before the Swedish Pentecostal Pastors Conference in Stockholm was to start so I hitched a ride with a truck up to Stockholm. We arrived at four in the morning. I had been promised that I could stay with Leif's parents, Asta and Walfrid Kennerberg, but it was way too early to go to them at that time so I went to the Central Station to warm myself up for a bit.
​
​