At the end of 1965, Marianne does a long journey by boat, this time back to Sweden. She gets a job at the "Karolinska University Hospital" as a midwife. She works in the maternity department during the first year and later on in the intensive care unit. At first, she lives in a staff lodgings on the hospital campus, but finds it very difficult since there are always people running around during the nights.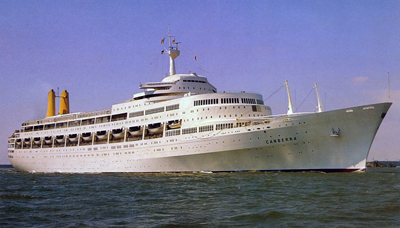 Marianne speaking: Despite the impressive experience of receiving a visit from Con Frangos before I traveled to Sweden, I felt like I at this point was at a place of crossroads in my life. I knew God had called me to be a missionary but there was still things that I did not understand, well, one could say that sometimes there was doubt in my heart. But then I thought that the only way to clear this up would be to go to Filadelfia Church and to earnestly seek God again, to re-submit my life to God.
Said and done. I end up on the top platform in the large Filadelfia Church – and it is Wasti Feldt who is preaching. Ten years have gone by since I last heard her speak and prophesy in Djuptjärn. It feels strange. Suddenly she stops in the middle of her sermon and says: "You who are sitting up there," as she points to the top bleachers, "thus says the Lord" and so she continues to proclaim the same prophecy as I had heard when I was 13 years old. She yet again talks about my childhood, about my desire to move to warmer countries and so on. Then she says that I have now reached a place of crossroads and describes how I am experiencing life at this moment and continues:
​
​
"God has spoken to you on several occasions and now it is time for you to choose the right path. This is the last time God calls you, but if you repent and follow God's will for your life, you will find a road mapped out for you. You will experience God's blessings. Do not think that there won't be a man for you, for God has appointed him, and he will also become your partner in the act to which God has called you. But today will be the last time I talk to you about this so you have to make a decision today." After the meeting, I went to the front and asked for prayer. I told God that I was willing to go his way during my prayer.
On my way home to my residence at Karolinska from that morning service at the Filadelfia Church, I was feeling quite alone and abandoned. As I was walking, I noticed that there was a man following me. After a while he went up to me and said, "Excuse me, I don't know why I followed you but I was in the Filadelfia Church this morning and I happened to see you there." We introduced ourselves and he asked where I lived. After these introductory phrases he asked if he could take me out to lunch. I agreed to do this. During lunch, I told him a little bit about my background and myself. I also mentioned that I was looking for an apartment or a Christian who happened to have an apartment and wanted to share it with someone. He then said: "You're asking the right person because I have a girlfriend who is looking for a room-mate. She lives right around here so we could go there now." Said and done, we went there and I met her. It turned out that his girlfriend was a Swedish-American. She had a pretty big apartment. On the spot, she decided that I would be sharing the apartment with her from then on. I moved in with her during the first half of 1966. It all turned out really well – we went to church services together and were generally hanging out a lot together.
​
​
​
​